Welcome!
The University of Atlantia is dedicated to the advancement of teaching in the Kingdom of Atlantia, SCA, Inc.
There are two to three University sessions each year. If you are interested in hosting a University, please refer to our bid guidelines.
Upcoming Session:
University Session #105 - September 12, 2020 - Kingdom of Atlantia
Location:
Your Home
Kingdom
of Atlantia, NC12345
Event Flyer

---
Announcements
7/13/2020
WE'RE GOING ONLINE AGAIN FOR OUR FALL SESSION OF THE UNIVERSITY OF ATLANTIA!
More info will be forthcoming. But, here's what you need to know right now:
Event Date = September 12, 2020
Class Proposals Due = August 3
Student Registration Opens = August 17
Student Registration Closes = September 10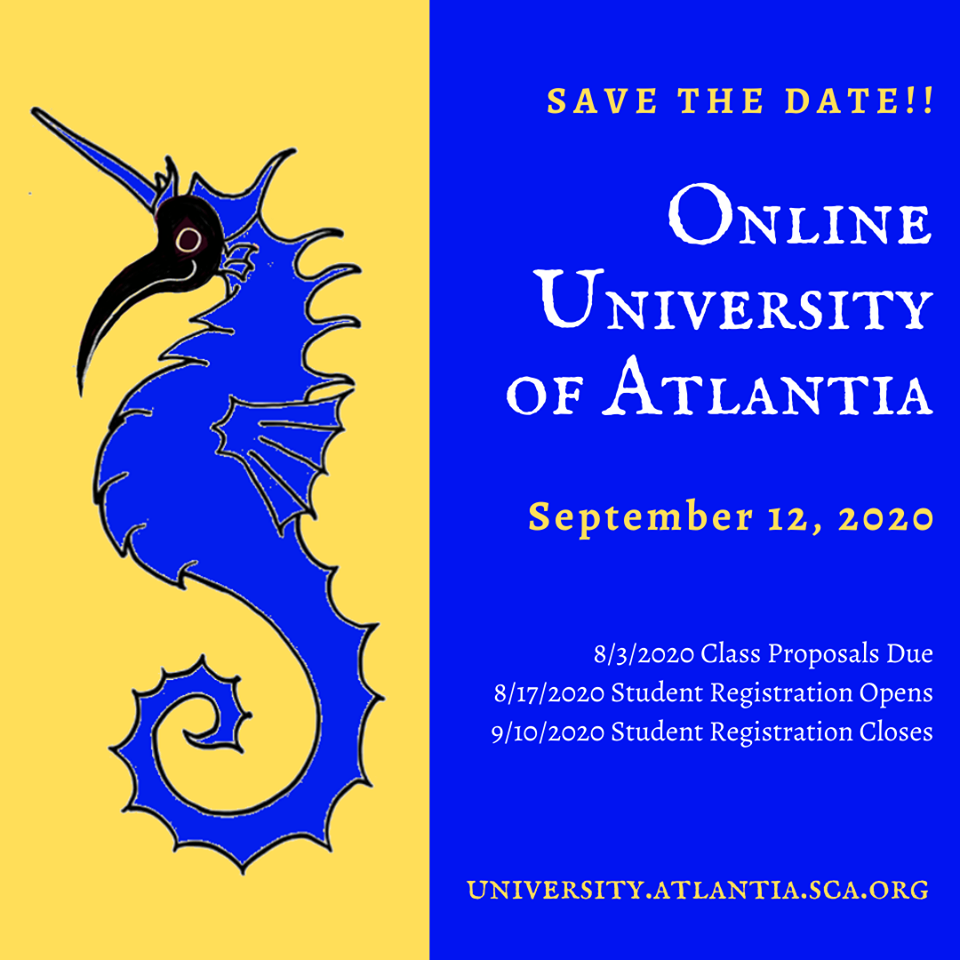 5/29/2020
To be more fully collaborative with
Virtual Atlantia
, encourage more contributions and use of this resource and reduce the overall number of places where classes may originate making tracking of data more difficult
beginning on June 1 we will grant University credit ONLY for online classes taken / taught that are listed on the Virtual Atlantia calendar
.
Mistress Drea, our University Webminister, recently created a form that pulls all the listed classes from the Virtual Atlantia calendar so instructors and students can more easily submit a request for University credit.
Please let me know if you have any questions.
In service,
Adriana, Chancellor
University of Atlantia